CMC Notes Newsletter - September 2023
In this issue
1. Important Upcoming Dates
2. Musical Preludes
3. RCM 2015 Piano Rep & Etudes books – SALE!
4. Teachers Upcoming Gigs & Releases!
5. Lost & Found
6. Featured Student
7. Featured Teacher
8. Birthdays this Month
WELCOME BACK! We are so excited to start the new school year with you all!
Monday, September 4: No lessons scheduled – Labour Day!
Tuesday, September 5: First day of fall lessons!
Saturday, September 16: Polish Festival on Roncesvalles from 11am to 11pm. Please note that Roncesvalles will be closed to traffic that day, so please allow more time for travelling to CMC for your lessons. Come visit our table outside CMC!
Tuesday, September 19: First day of Suzuki Cello Group class!
Saturday, September 23: First day of Musical Preludes classes (Intro for 3-4 year olds and Junior for 4-6 year olds)
Click HERE for our private lesson 2023-2024 CMC School Year Calendar
We are excited for our Musical Preludes classes to resume in September, for 3 to 6 years olds! Our wonderful teacher Sonya Harper Nyby will be teaching the classes once again.
What is Musical Preludes?
Musical Preludes is a course designed to introduce your young child to the wonderful world of music, where they learn basic musical concepts and explore various instruments such as the violin, cello, clarinet, piano and more!
Musical Preludes classes are drop-off classes, with the teacher and students only. The course has a parent observation day where parents or caregivers come to class to observe what the children have been learning. We limit the number of students to a max of 8 children per class.
The ultimate goal is for our students to experience the joy of music.
CLASS SCHEDULE FOR 2023-2024:
Musical Preludes is a year long course from September to June, with 30 classes total.
Sept. 23, 2023 – June 8th, 2024
MP Intro (3-4 year olds): Saturdays 10:00-10:45am
MP Junior (4-6 year olds): Saturdays 11:00-11:45am
COST: $750 for the year (option of 2 installments of $375)
Click HERE for more info!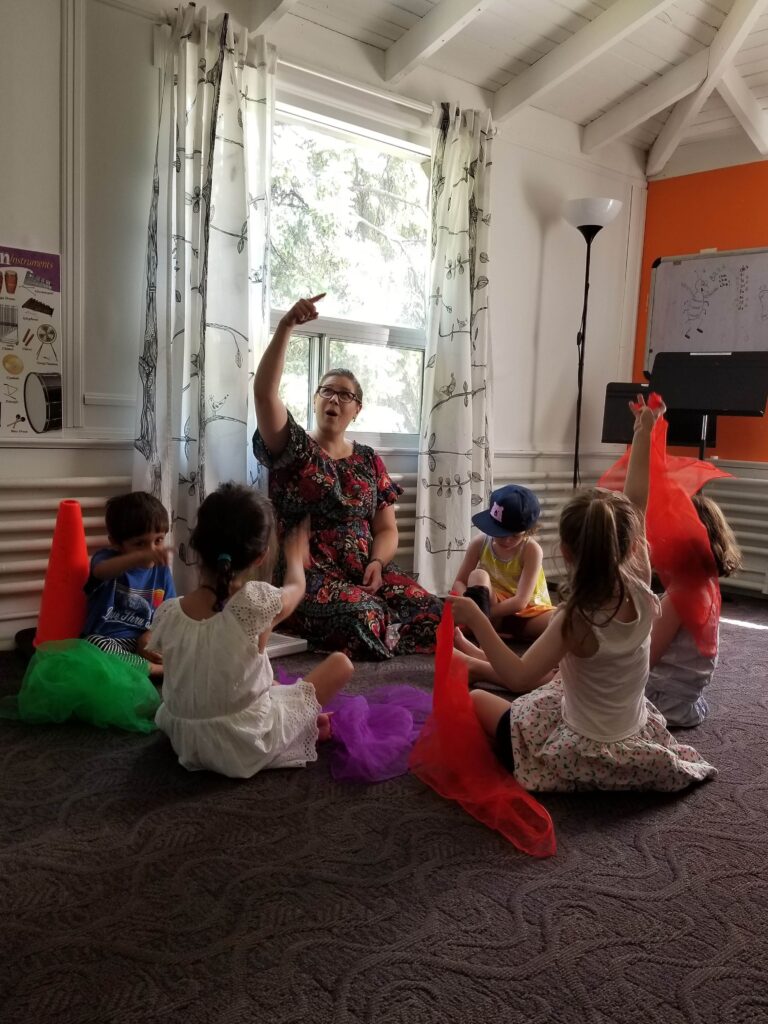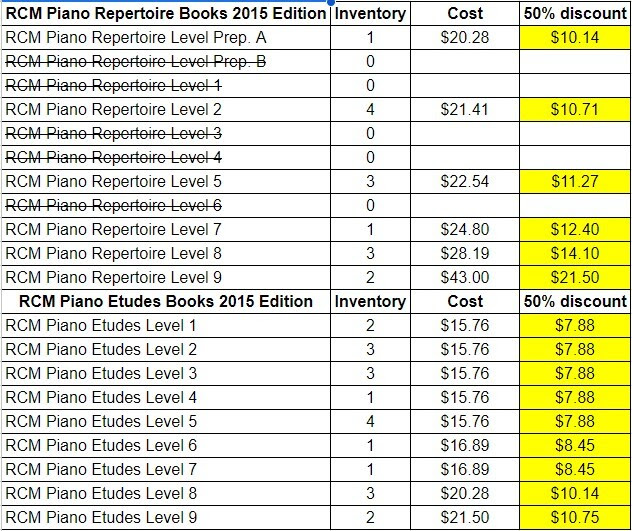 RCM 2015 edition Piano Repertoire and Etudes book sale!
RCM 2015 edition Piano Repertoire and Etudes book sale: 50% OFF! Please purchase in our office!
Did you know we have a bookstore in our office? If we don't have a book in stock you're looking for, we can check with our supplier to see if we can order it for you!
Teachers Upcoming Gigs & Releases!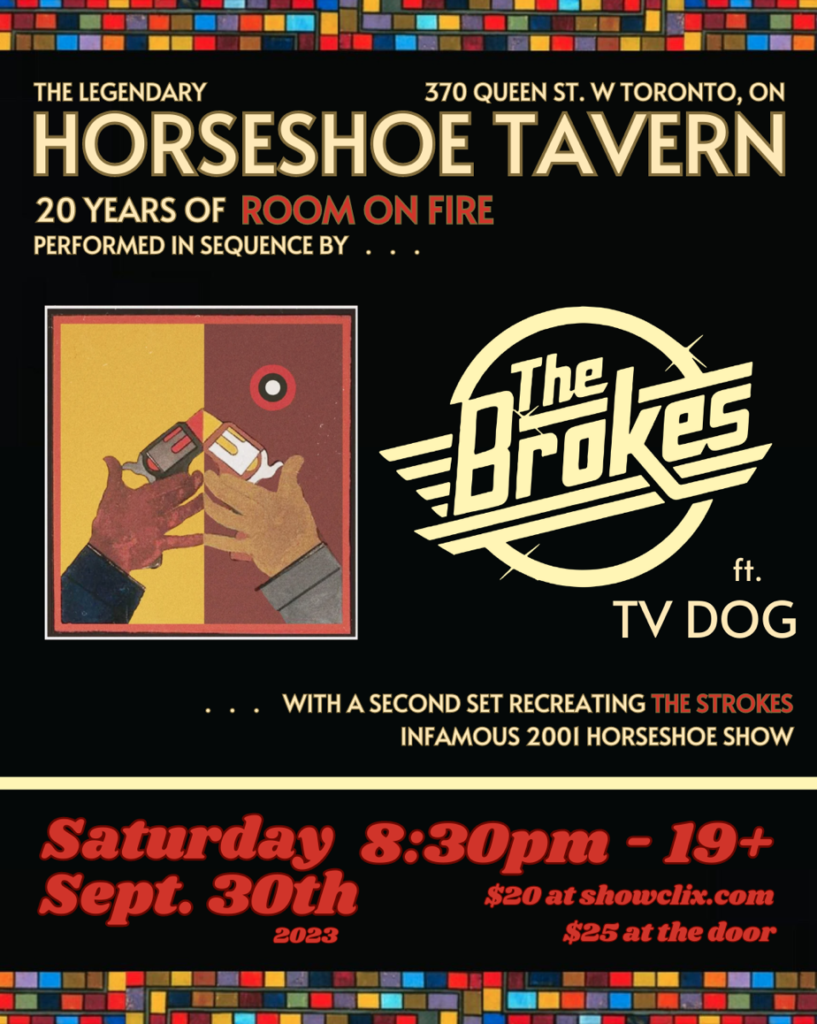 Brandon
Brandon has an upcoming performance with his band "The Brokes", a "The Strokes" cover band. The event will take place at the Horseshoe Tavern on Saturday September 30th.
This event will celebrate 20 years of The Strokes album,"Room on Fire", where The Brokes will be playing the album front to back. They will then recreate the set The Strokes played when they played the Horseshoe in 2001.
Tickets will be $20 in advance and $25 at the door. Should be a good one!
Click HERE for tickets and more information.
Jacob
Jacob has a few upcoming gigs in the GTA!
The first one is on September 7th, 8 to 9pm, featuring Jacob Chung Quintet at Toronto International Film Festival Opening Night StreetFest.
The second one is on September 8th, 8 to 11pm, where he will be playing with Andrew Scott Quartet at The Rex.
Lastly, he will be playing on September 10th, 5 to 6pm, with Carmen Spada Big Band at World of Jazz Brampton Jazz Festival.
Alex
CMC teacher Alex has 2 upcoming events!
1. September 10th, from 9:30-11:30pm: Dan Pitt Trio CD Release – "Stages".
2. September 29th, from 7:30-11pm: Triio CD Release – "Magnetic Dreaming".
Enjoy!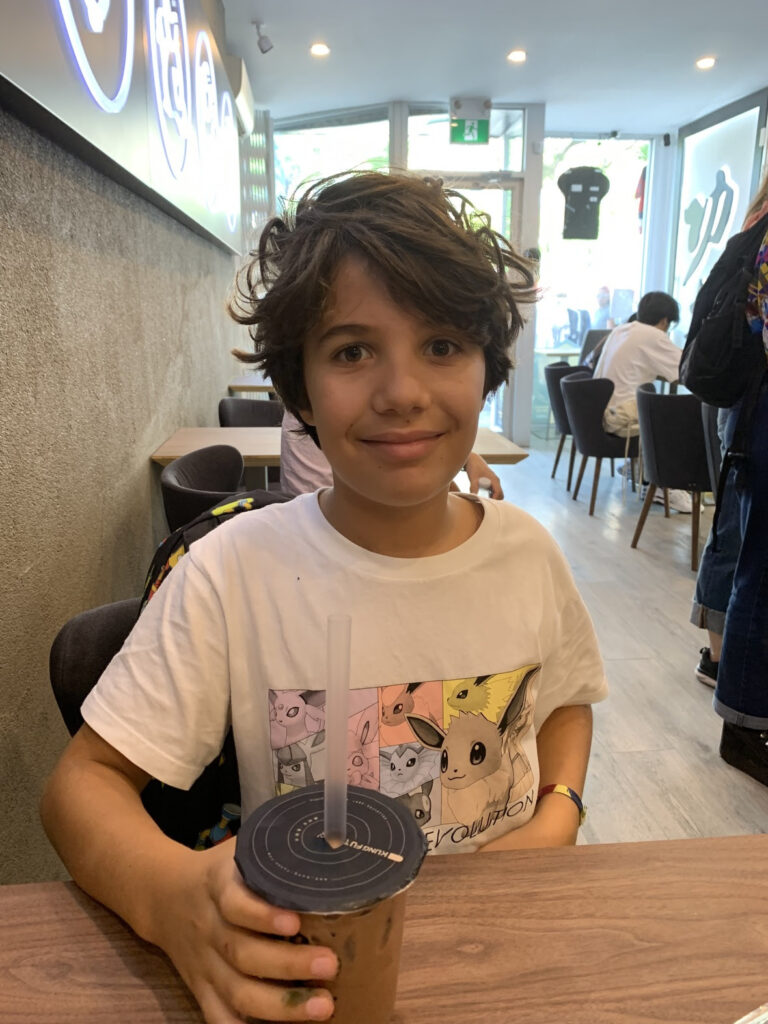 1. How old were you when you first started music lessons?
I was 5 years old when I first met my teacher, Ms. Louise for a trial lesson. Ever since then I have practiced piano every day.
2. Why did you choose your instrument?
Initially the piano was too big and intimidating for me. I think I wanted to try guitar. But my parents encouraged me to give it a try. I remember that one of the first pieces that Ms. Louise made me play was a simplified, one voice version of Beethoven's Ode to Joy. I loved it. It somehow made sense that when you press the keys on the piano in a particular pattern, the music that comes out is beautiful. I love the piano today because it allows me to play a wide range of musical styles. My favourite style is jazz or fast, joyful pieces from any historical period or from any genre. But I also love that the piano allows me to play in school for my friends. Last year for the Spring concert in school I played the accompaniment for my class's song, Cephaz's On a Mange Le Soleil. Ms. Louise helped me learn it and play it in school. That was so much fun!
3. Do you have a favourite piece to play?
I love something in almost every piece that I play on the piano. Last year, while preparing for the RCM level 3 exam, I learnt to play Christopher Norton's swing piece In the Spirit. I think that this is one of my favourite pieces that I have played so far.
4. What do you like most about your teacher?
My teacher is very kind and very patient with me. When something is too difficult and I am rebellious about learning it the proper way, she has a way of making me do the right thing. She takes time to laugh with me when I tell a funny story or be sad with me when I am sad. She makes my piano lessons fun and challenging at the same time. And she also gives me the best stickers when I do the work well!
5. Who are some of your musical inspirations?
My parents took me to an Elton John concert last Fall. I loved the performance and the music. One day I would love to learn to play on the piano Scott Joplin's The Entertainer.
6. If you could play any other instrument, what would it be?
Guitar for sure. Maybe also drums. I would like to be part of a band one day.
7. What do you like most about CMC?
I love my teacher, the recitals and that everyone is nice at CMC. I also love that piano challenges me and inspires me at the same time.
8. What else do you do in your spare time?
I play video games, swim and read books. I also love to travel. In my spare time I am very passionate about geography, too. My favourite thing is to learn about different places in the world, how people live there and what kind of animals and plants exist in different climates.
9. Anything else you would like to add?
I absolutely love bubble tea!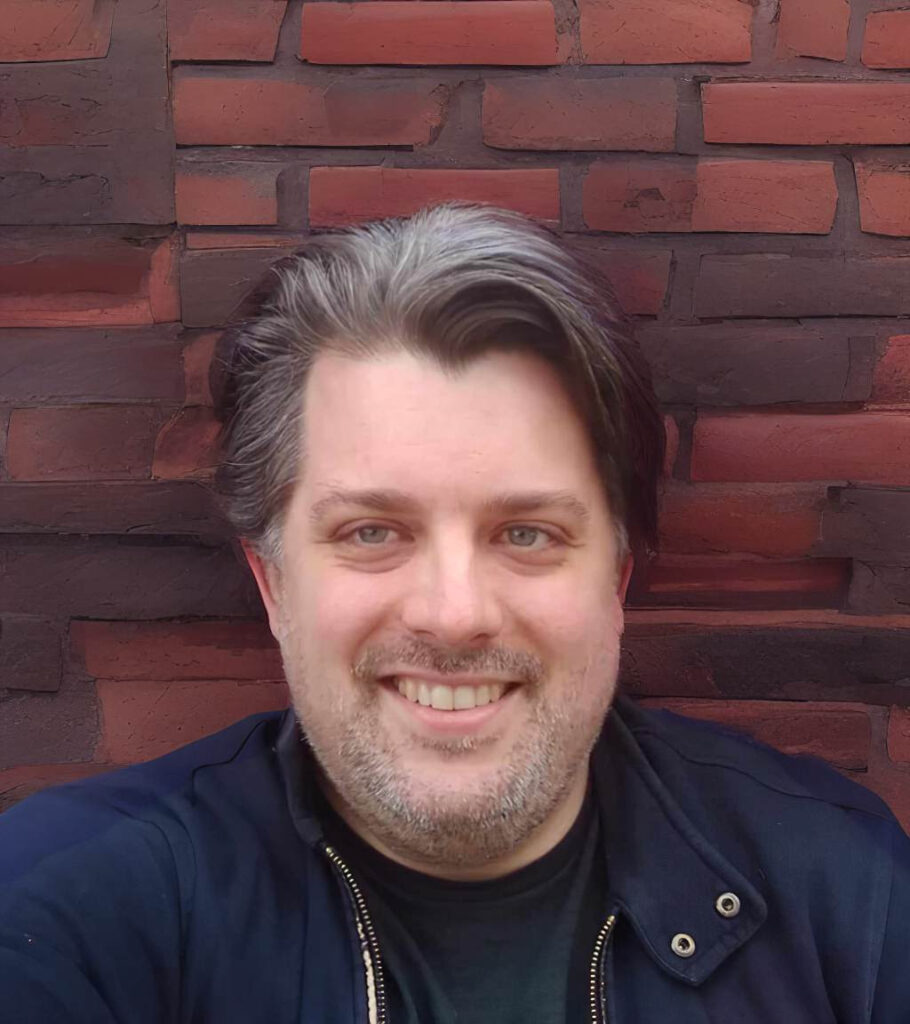 Mark Andrews (Piano, Theory)
1. How old were you when you first started music?
I was 2.
2. Why did you want to make music your career?
Because I was able to start so young, and was good enough early on, that I've never known anything else. "Want" is a tangential concept here, it's more that It's inextricable from my very sense of being.
3. What do you enjoy most about teaching?
The first thing is the awareness that I'm encouraging the formation of an alternate form of cognition, one of the few ways that humans can form and develop thoughts completely without language, and also a way to engage directly with the fundamental realities of the universe more simply and intuitively than math, physics, or philosophy can allow. The second thing is when a student is finally ready to play something they're excited about.
4. Some students have challenges with consistent practicing. What advice would you give them?
It depends entirely on the student. You can talk about discipline, habits, goals, exams, recitals, etc but if possible I prefer to point out that if they're going to grind levels for hours in their favorite video game(s) they can also do it in meatspace. (editorial note: meatspace is the physical world, as opposed to cyberspace or a virtual environment).
5. What do you like to do in your spare time?
Collecting and reading books – mostly genre fiction and existentialist philosophy, painting, listening to heavy metal and 90s demoscene tunes, paper and plastic model building, TV and film, watching anime, Dungeons & Dragons and other roleplaying games, Warhammer 40k and other miniatures games, Board Games, collecting and playing video games, 3d printing, computer building, cooking, smoking and curing, brewing and distilling, and playing other musical instruments as long as they're completely unrelated to my career.
6. If you could go anywhere in the world, where would it be?
Essen, Indianapolis, or Akihabara.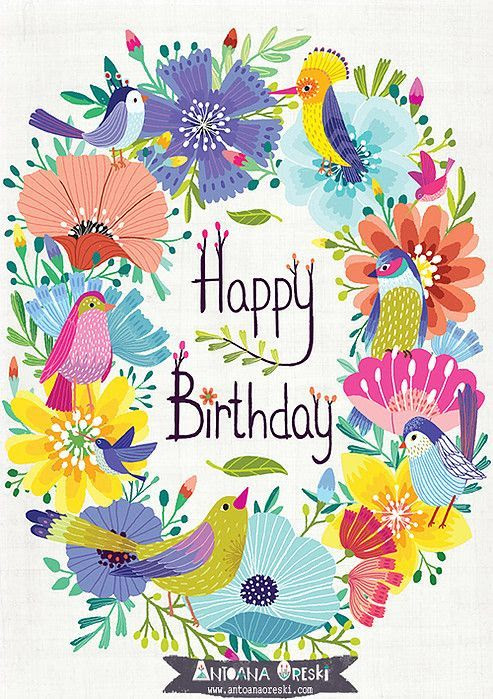 September 1: Audrey W.
September 4: Liam S-J.
September 5: Elisabelle M.
September 5: Alana Y.
September 5: Jenova T.
September 5: Stefano P.
September 5: Lillian G.
September 8: Bryan P.
September 8: SA S.
September 9: Magnus K.
September 9: Ishani K.
September 10: Luke A.
September 13: Alan D.
September 15: Aimi H.
September 15: Maya M-B.
September 19: Jonathon G.
September 19: Robin L.
September 20: Nila G.
September 20: Tina K.
September 21: Sadie S.
September 21: Jirapat R-W.
September 24: Paul S.
September 24: Nina O.
September 24: Lou W.
September 24: Frankie O.
September 25: Juliette S-P.
September 26: Lake M.
September 27: Trinity T.
September 27: Lusiana L.
September 27: Adele M.
September 29: Alexis S.
©2023 Music Lessons Toronto, In-Person at our school or online Lessons Toronto, Music School Toronto, ON, Canada | 314 Roncesvalles Ave., Toronto, ON M6R 2M7, CA
All Posts

Blog Posts

CMC Notes Newsletters
CMC Notes Newsletter – December 2023 In this issue 1. Important Upcoming Dates 2. Winter Recitals – Schedule 3. Teachers…
Parents & Students: How to Practice Effectively Considerations regarding some instruments: 1. Piano, as much as it's an easy instrument…
CMC Notes Newsletter – November 2023 In this issue 1. Important Upcoming Dates 2. Winter Recitals – Information 3. Winter…
RCM EXAMS: ALL YOU NEED TO KNOW What is an RCM exam?   The Royal Conservatory Music (RCM) examinations are a…
CMC Notes Newsletter – October 2023 In this issue 1. Important Upcoming Dates 2. Musical Preludes 3. Teachers Upcoming Gigs…
CMC Notes Newsletter – September 2023 In this issue 1. Important Upcoming Dates 2. Musical Preludes 3. RCM 2015 Piano…